Bachelor's in Psychology Careers | A Guide
In pursuing a bachelor's degree in psychology, students study how and why people think and behave the way they do. A bachelor's degree in psychology is a popular undergraduate degree, and there's a good reason. After receiving their degree, students may be prepared for careers in social work, human resources and mental health practice.
If you're a current or prospective student interested in learning more about bachelor's in psychology jobs, keep reading to learn about some popular options. Working professionals considering a career change can also explore entry-level psychology jobs.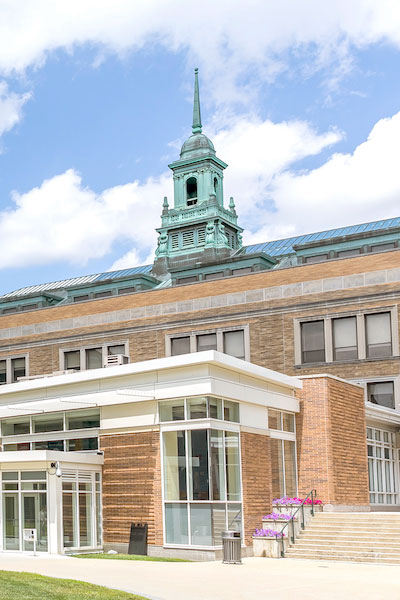 Prepare for a Lifetime of Leadership with Simmons' Online Undergraduate Programs
Women with 17+ prior college credits or an associate degree: Discover an innovative online bachelor's program designed specifically for women and built on Simmons University's 100+ year history of empowering women.
Empowering women to become leaders for 100+ years
Up to 96 transfer credits accepted, plus credit for life experience
Degree programs are designed for working professionals and can be completed part time
info SPONSORED
What Careers Could I Pursue With a Bachelor's in Psychology?
It's important to choose a psychology job that aligns with your personal interests and skills. While this guide explores several jobs you can pursue with a bachelor's in psychology, this is not a comprehensive list, as psychology graduates may pursue work in a variety of different fields.
According to the American Psychological Association, more than half of bachelor's in psychology graduates enter the workforce after graduation, while about one-fourth continue their education with a graduate degree in psychology.
Keep in mind that if you want to work as an independent psychologist, you must be licensed or registered in the state you wish to practice in. Licensure requirements vary by state, but a master's degree is generally the minimum for practicing as a psychologist. In many cases, a doctoral degree may be required.
Here are a few psychology jobs that could be open to you after completing a bachelor's degree.
Mental Health Counselor
Mental health counselors support people with mental health and behavioral problems in individual and group settings. The work environment for counselors is varied, and may include mental health centers, residential treatment centers, halfway houses, prisons and employee assistance programs. Some types of mental health counselors may work with specific populations such as youth, the elderly or people with disabilities.
Becoming a mental health counselor often requires a master's degree and practical experience—but some counseling psychology jobs can be obtained with a bachelor's degree. Private practice also requires state licensure and continuing education.
According to the Bureau of Labor Statistics (BLS), being a mental health counselor requires qualities such as interpersonal skills, compassion, patience and communication.
Human Resources Specialist
A bachelor's in psychology may prepare you for a position in human resources, where you serve as a liaison between employees and an organization. You may be involved in recruiting and interviewing potential employees, or you may work with existing employees to identify their needs. Human resources managers may also help administer payroll and benefits.
At a managerial level, human resource professionals may assist with strategic planning, helping the organization hire and train the staff to meet current business requirements and regulations.
Human resources specialists can work at a variety of organizations, including businesses, consulting firms and government bodies. Sometimes, human resource specialists may work for third-party recruiting firms that assist organizations with their human resources needs. According to the BLS, human resource specialist jobs usually require a bachelor's degree. This makes it a great entry-level psychology job for someone with a BS or BA in psychology.
Medical and Health Services Manager
Another option for those interested in psychology careers is entering the medical and health services industry. Medical and health service managers plan, direct and coordinate medical and health services in hospitals, nursing homes and medical practices.
These types of positions often call for medical knowledge, business acumen and experience performing clerical tasks. Having past experience working in a healthcare facility may also be helpful for this role.
If you're interested in pursuing this job with a bachelor's in psychology, be aware that some positions such as nursing home and assisted living administrators may require licensure by the specific state board. You should also keep in mind that because many healthcare facilities operate 24/7, medical and health service managers may have to work long shifts or be on-call to assist with emergencies.
According to the BLS, the demand for medical and health service managers is expected to grow much faster than average, with a 32% increase between 2020 and 2030.
Social Worker
Social work may be a great fit for someone interested in exploring other jobs with a bachelor's in psychology. Social workers help people cope with problems in their everyday lives and may also advocate for improved policies, services and conditions for communities in need of help. Social workers often work with groups, community organizations and policymakers. Depending on your specialization, you may work in schools, with family assistance agencies or in healthcare settings.
Licensed clinical social workers provide individual or group therapy to help people change behavior or cope with situations. A master's degree and two years of experience are usually required to become a clinical social worker, according to the BLS.
That said, a bachelor's in psychology may prepare graduates for entry-level psychology jobs that fall under social work—such as case workers or mental health assistants. Social work jobs require skills such as communication, organization and emotional understanding.
Correctional Treatment Specialists
If you're interested in helping individuals through rehabilitation, psychology jobs in probation and correctional treatment may be right for you. Correctional treatment specialists assist with the rehabilitation of law offenders that may be in custody or on probation or parole. Also known as case managers, treatment specialists develop and manage treatment plans for individuals.
In this role, you may be asked to manage a caseload of individuals and write case reports that chronicle the inmate's history. The work may take place in an institution or in high-crime areas. Some correctional treatment specialists may specialize in certain fields, such as domestic violence probationers, substance abuse cases or juvenile offenders.
According to the BLS, becoming a correctional treatment specialist often requires a bachelor's degree in a related field. Specialized training and a certification test may be required before assuming a permanent position, but this depends on where you live.

Earn your Master's Degree in Behavior Analysis from Simmons University
Earn your master's degree in behavior analysis online in 20 months through Simmons' highly respected program, BehaviorAnalysis@Simmons.
Complete Your Master in 20 Months
BACB- Required Mentoring Incorporated into Program
No GRE Required
info SPONSORED
What Else Could I Do With a Bachelor's in Psychology?
While there are many possible bachelor's in psychology jobs, there is also the option of continuing your education.
There are many different psychology degrees available at the master's level that you could consider based on your personal interests and career goals. Many master's degrees in psychology are available through online programs that allow you to prepare for psychology careers without going to campus.
An online master's in psychology could be a good choice if you want to prepare yourself for doctoral studies and become a licensed psychologist. There are also online master's degrees in clinical psychology, which focus on how to treat a range of mental, emotional and behavioral disorders. If you're interested in specializing in behavioral psychology, an online master's degree in behavioral psychology may be right for you. With this degree track, you'll learn how to help individuals change their thinking and behavior.
Last updated January 2022.