How to Become a Counselor in California

Counselors in California are known as Licensed Professional Clinical Counselors (LPCC) and began being licensed by the state Board of Behavioral Sciences (BBS) in January of 2012 — making California the last state to license counselors. The BBS maintains all of the educational, examination, and renewal requirements for LPCCs, which are examined in detail below, along with salary information from the U.S. Bureau of Labor Statistics as well as scholarships available to aspiring LPCCs in California.
Make a difference for children and schools. Earn a master's in school counseling online. No GRE req'd.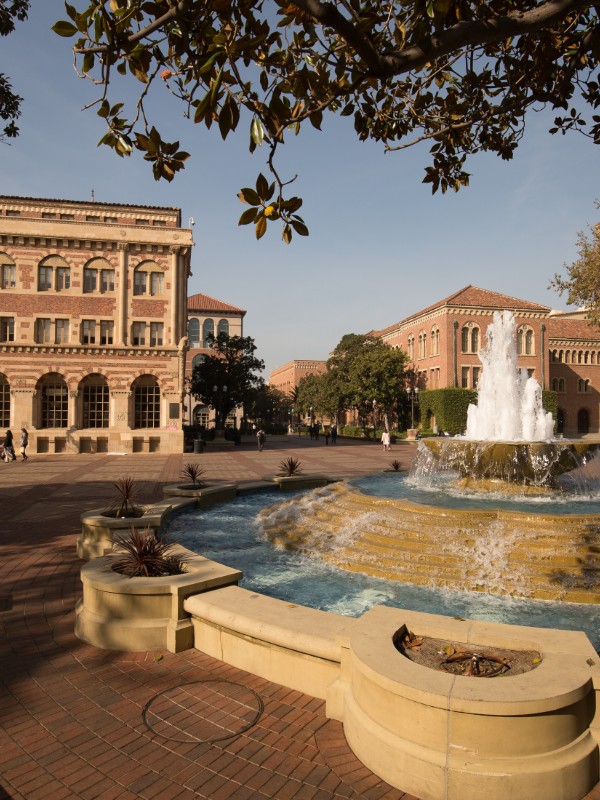 USC Master's in School Counseling online — No GRE
The University of Southern California Rossier School of Education offers a Master of Education in School Counseling online for aspiring K-12 school counselors. The program can be completed in less than two years and there is no GRE requirement.
No GRE required
Prepares you for school counseling credential
Bachelor's degree required
info SPONSORED
Become an LPC with one of our sponsored online psychology programs.
Counselor Education in California
LPCC licensing requires completion of a 60-semester-unit master's in counseling or doctoral degree from an accredited institution. The degree must cover counseling or psychotherapy, including six semester units of supervised practicum or fieldwork study, and at least three semester units of coursework in all of the following content areas:
Counseling and Psychotherapeutic Theories & Techniques
Human Growth & Development
Career Development Theories & Techniques
Group Counseling Theories & Techniques
Assessment, Appraisal & Testing
Multicultural Counseling Theories & Techniques
Principles of Diagnosis, Treatment Planning & Prevention of Mental & Emotional Disorders and Dysfunctional Behavior
Research & Evaluation
Professional Orientation and Ethics & Law in Counseling
Psychopharmacology
Addictions Counseling
Crisis/Trauma Counseling
Advanced Counseling & Psychotherapeutic Theories & Techniques
These 13 content areas must also include instruction in the following areas:
The understanding of human behavior within the social context of socioeconomic status and other contextual issues affecting social position
The understanding of human behavior within the social context of a representative variety of the cultures found within California
Cultural competency and sensitivity, including a familiarity with the racial, cultural, linguistic, and ethnic backgrounds of persons living in California
An understanding of the effects of socioeconomic status on treatment and available resources
Multicultural development and cross-cultural interaction, including experiences of race, ethnicity, class, spirituality, sexual orientation, gender, and disability and their incorporation into the psychotherapeutic process
Case management, systems of care for the severely mentally ill, public and private services for the severely mentally ill, community resources for victims of abuse, disaster and trauma response, advocacy for the severely mentally ill, and collaborative treatment. The instruction required in this paragraph may be provided either in credit level coursework or through extension programs offered by the degree-granting institution.
Human sexuality and the study of the physiological, psychological, and sociocultural variables associated with sexual behavior, gender identity, and psychosexual dysfunction
Spousal or partner abuse assessment, intervention strategies, and same-gender abuse dynamics
Child abuse assessment and reporting (seven hours required)
Aging and long-term care, including biological, social, cognitive, and psychological aspects of aging. This coursework shall include instruction on the assessment and reporting of, as well as treatment related to, elder and dependent adult abuse and neglect.
California-Specific Content
The degree must also include instruction in methods of service delivery in recovery-oriented practice environments and integrate an understanding of the various cultures found in California as well as the social and psychological implications of socioeconomic status.
Online Students
California residents who obtain online degrees while residing in the state must meet the same requirements as other residents — that is, they cannot add California-specific content or other areas of instruction post-degree. Out-of-state applicants may be able to add units, courses, and practicum hours to their degrees earned outside of California.
Supervision Hours
Becoming a professional counselor in California requires 3,000 hours of post-degree supervised experience as a Professional Clinical Counselor Intern (PCCI) registered with the California Board of Behavioral Sciences. PCCI registration requires completion of the LPCC education requirements above. The 3,000 supervised hours must be achieved in no less than two years and no more than six. One hundred and fifty hours must be in clinical experience at a hospital or community mental health setting.
The PCCI must be supervised by an approved supervisor who has documented two years of clinical licensed experience as a California LPCC, Licensed Marriage and Family Therapist, Licensed Clinical Social Worker, Licensed Clinical Psychologist, or Physician certified in psychiatry by the American Board of Psychiatry and Neurology.
Examination
Examinations required for LPCC licensing include the National Clinical Mental Health Counselor Exam and the California LPCC Law and Ethics Exam. Upon approval from the California Board of Behavioral Sciences, applicants will have 12 months from the date of BBS's letter to pass all required exams. Aspiring LPCCs who are licensed in other states will need to have their education and supervised experience approved by the BBS before they are eligible to take the California LPCC Law and Ethics Exam and the NCMHCE, if they have not already passed it.
National Clinical Mental Health Counselor Exam
Once LPCC applicants receive an exam registration from the BBS, they will submit it to the National Board for Certified Counselors, which may take up to four weeks to process.
The National Clinical Mental Health Counselor Exam (NCMHCE) tests knowledge of assessment and diagnosis, counseling and psychotherapy, and administration, consultation, and supervision. It consists of 10 clinical mental-health counseling cases and assesses clinical problem-solving ability by testing identification, analysis, diagnosis, and treatment.
California LPCC Law and Ethics Exam (Jurisprudence)
The California LPCC Law and Ethics Exam is administered by the BBS and is required by all interns during their first year of internship.
The exam tests knowledge of California law and ethics, as well as LPCC law in particular, including the scope of practice, practice requirements, and enforcement. It also tests knowledge of the American Counseling Association Code of Ethics.
PCCI an LPCC Licensure Fees
LPCCs in California can expect to pay the following fees for their application, renewal, examination, and other licensing expenses:
Fees for LPCCs
LPCC Examination Eligibility Application: $180
California LPCC Law and Ethics Examination: $100
LPCC Initial License: $200 (Prorated)
LPCC Biennial License Renewal: $175
LPCC Inactive License Renewal: $87.50
Fees for Professional Clinical Counselor Interns (PCCI)
PCCI Registration Application: $100
PCCI Annual Registration Renewal: $100
LPCC License Renewal
LPCC licenses must be renewed every two years with the California Board of Behavioral Sciences. Renewal involves submitting the appropriate fees (see above) and completing an application. It takes approximately four to six weeks to process renewals, and all continuing education must be completed before submission of the fees and application.
Continuing Education for LPCCs
Thirty-six hours of Continuing Education (CE) are required for each two-year renewal period; initial licensees, however, are required to complete only 18 hours of CE for their first renewal.
Inactive, retired, or exempt LPCCs are not required to complete CE for renewal. Exemptions must be granted by the California Board of Behavioral Science and may be done so if the LPCC resided in another country for at least a year, was absent from California for at least a year due to military service, or the LPCC or a family member had a verified physical or mental disability or medical condition.
All CE must be taken from BBS-approved providers, identifiable by their advertised provider approval number (e.g. PCE ####). Accredited universities are also acceptable providers, though they are not required to have an approval number. Self-study courses may also be obtained from BBS-approved providers, though only half of the required CE hours may be obtained through self-study. Teaching a course may also count towards continuing education if the course meets all other CE guidelines.
The BBS does not approve specific CE courses, but mandatory courses for license renewal include six hours of CE on law and ethics during each renewal cycle and seven hours of CE on HIV/AIDs once.
CE equivalencies break down as follows:
One hour of instruction = one CE hour
One quarter unit = 10 CE hours
One semester unit = 15 CE hours
Reactivation of an Inactive License
To reactivate an inactive license, the LPCC must complete 36 CE hours, submit the necessary fees (see above), and write a statement to the BBS clarifying his/her CE.
Reactivation of a Retired License
To reactivate a retired license, the LPCC must:
Pay renewal fee
Fulfill continuing education requirements
Submit fingerprints
If retired more than 3 years ago LPCCs must pass the current required licensing examinations as well as apply for licensure with renewal fees paid and the above met.
Additional Information
For aspiring LPCCs who began graduate study before August 1, 2012 and will complete it on or before December 31, 2018, there are differing licensing requirements, which can be found on the California Association for Licensed Professional Clinical Counselors (CALPCC) website.
For aspiring LPCCs who earned their degrees outside of California, CALPCC has particular licensing requirements according to application date — specifically for those who apply before December 31, 2015. For a full list of the particular requirements, visit CALPCC's website.
Average Counselor Salary in California
According to the May 2021 Bureau of Labor Statistics, the following types of counselors in California can expect to earn the corresponding average hourly wage and average annual wage:
| Type of Counselor | Average Hourly Wage | Average Annual Wage |
| --- | --- | --- |
| Substance Abuse, Behavioral Disorder, and Mental Health Counselors | $28.74 | $59.790 |
| Educational, Guidance, School, and Vocational Counselor | $39.22 | $81,590 |
| Rehabilitation Counselor | $20.71 | $43,070 |
California Counseling Scholarships
The following scholarships are available to aspiring LPCCs in California:
Type: Scholarship
Amount: To Be Decided by School
Description: The Scholarships for Disadvantaged Students program provides funds to schools, which in turn offer scholarships to full-time, financially needy students from disadvantaged backgrounds who are studying professional counseling (amongst other health professions).
*Licensure information including requirements, salaries, renewals, and fees were retrieved as of July 2022. Information may have changed since, check with the state's board of licensing for more information.
Last Updated: July 2022