Interview with Dana Kurilew – School Counselor and Supervisor of Counseling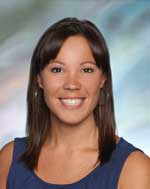 About Dana Kurilew: Mrs. Kurilew began her school counseling career as an intern in 2003. Just the following year, she became a full time school counselor and met diligently with students, faculty, and parents. In 2014, just after 10 years – Mrs. Kurilew became the Supervisor of Counseling Services at Hunterdon Central Regional High School . During her time as a school counselor and supervisor, Mrs. Kurilew was honored as the Hunterdon County School Counselor of the Year, the New Jersey State School Counselor of the Year, and was a semi-finalist as the National School Counselor of the Year in 2014. She has had the opportunity to meet Michelle Obama at the White House and many other wonderful professionals in the school counseling field! For the 2017 to 2018 year, Mrs. Kurilew will be the president of the New Jersey School Counselor Association (NJSCA)!
[Mrs. Kurilew] I would like to start by saying that I love the school counseling profession and it is very rewarding working with the students every day! When it comes to the role of a counselor… all schools, especially high schools function differently and school counselors have different roles depending on their district's mission and student population. Here at Hunterdon Central, we have a total of 16 school counselors, 4 for each grade level and these counselors move with their students throughout the 4 years of high school.
At Hunterdon Central, the role of a school counselor is to provide services designed to support each student with their individual and unique needs to assist them in their overall development. Personally, I believe that a school counselor acts as a liaison between students, parents, teachers, administrators etc. We are advocates for our students and look to challenge our students to be the best they can be academically, socially, emotionally/mentally as they move into adulthood and leave high school.
[OnlineCounselingPrograms.com] What influenced you to pursue a career as a school counselor? What was your undergraduate degree focus?
[Mrs. Kurilew] Growing up in high school, my then "guidance" counselor – PS we call them school counselors now – was someone I met with maybe once or twice – and as you may know high school is a time when there is a lot going on in all areas.
It is important for me to mention that I was a business management undergrad major but during my time at The College of New Jersey (TCNJ) and my involvement with being the president of Future Business Leaders of America….I knew I needed to being in a helping profession but always knew somewhere down the line my business degree would come in handy!
When I learned TCNJ had a WONDERFUL counseling program it was then I realized that I could go into a field where I have the ability to help students, support them, and meet with them to make them feel comfortable in high school and motivate them for their future. I knew that I could believe in them so that they could also believe in themselves. I have gone from high school counselor to now the director of counseling services here at Hunterdon Central and it has all been driven by my desire and hope to assist students though some of the most trying, difficult, happy times of their lives.
What should you look for in an online master's in school counseling program?
Discover how to become a school counselor with our online guide to school counseling programs!
[OnlineCounselingPrograms.com] How did/will your school celebrate National School Counseling Week?
[Mrs. Kurilew] We will certainly be celebrating National School Counseling Week. I send a press release to the newspaper, we acknowledge our staff members at the board of education meeting, we buy stickers from ASCA to hand out to students, and I'm looking to put up a big banner that students can acknowledge their counselor on!
[OnlineCounselingPrograms.com] As a current/former director of school counselor, how often do you see students in your office for concerns of social, emotional, or personal health?
[Mrs. Kurilew] I spend a majority of my time assisting counselors with their student concerns- academic, social, emotional. I enjoy case managing with the 12 counselors and I act as the one person that filters these situations so there is always consistency around issues, policies, and procedures. Knowing that each case is reviewed individually- not all plans for students look the same.
[OnlineCounselingPrograms.com] What do you believe are the most challenging tasks of a school counselor?
[Mrs. Kurilew] There will always be challenges with some parents, staff, administration, students etc. but what is important is consulting and collaborating with colleagues – especially those who have been in the district for a longer period of time. Counseling students learn more about this during their internship experience! I would say that the challenges are not something I believe should deter someone or you, from moving forward in pursuing a school counseling certificate. Lastly, all districts have different policies and ways of doing things – this will change how you, as a future school counselor, handle different conflicts and situations.
[Mrs. Kurilew – Skills To Be a Successful Counselor] Communication, ability to collaborate, problem solve, and seek out the creative solution or intervention to help students. Flexibility since there is no normal day in the life of a school counselor, and you never know what type of situation or crisis may arise. Organization is also necessary so that you can keep track of what has been done/next steps in working with a student. These are just some that come to mind, The American School Counselor Association (ASCA) has competencies that outline the knowledge, abilities, skills, and attitudes necessary in the school counseling profession.
[OnlineCounselingPrograms.com] There are many different investors in a student's education, especially at their schools. What can you tell us about the difference between a social worker, psychology, and counselors in schools? How do these helping professions work together for the benefit of all students?
[Mrs. Kurilew] Here at Hunterdon Central we have grade level counselors, a college and career counselor, school based counselors, student assistance counselors, case managers, social workers, and school psychologists. I would hope that all schools have some of these positions to an extent and recognize that it is imperative to work together. Grade level counselors work on daily issues – schedules, teacher issues, concerns with loved ones and friends and social/emotional issues to an extent. When they recognize more assistance is needed they refer to school based or Student Assistance Counselors (SAC) depending on the issue. SACs tend to focus on alcohol/drug issues but do see students for all concerns and school based is more intense therapy that is offered by our local hospital. Social workers and case managers work directly with special education students and work very closely with the school counselors.
[Mrs. Kurilew – A Note on Counseling Graduate Programs] Any graduate school in NJ that has a CACREP Accredited school counseling program. You can visit CACREP's website and search by state and program. I personally attended The College of New Jersey and a new school counselor I hired attended Caldwell University – but I believe they all prepare you. I would base it more on cost and commute for you since you are working full-time as a teacher!
[OnlineCounselingPrograms.com] If you could describe your role as a school counselor director in one word what would it be? Why?
[Mrs. Kurilew] Empowering!! I empower counselors to be the best counselor they can be, students in meetings when I get to attend, parents when they call me with an array of issues, interns, supervisors when they work with me to make amazing changes to our curriculum, information technology to challenge them to keep using technology to make our processes even stronger, I could go on and on….I am so lucky to have the opportunity to do this every day!
Last updated: April 2020