How to Become a Counselor in Colorado

Counselors in Colorado are known as Licensed Professional Counselors (LPCs). While under supervision—a requirement for LPC licensure in Colorado—counselors are known as Provisional Licensed Professional Counselors. Colorado's largest professional association for LPCs is the Colorado Counseling Association. LPC licensure in Colorado is handled by the State Board of Licensed Professional Counselor Examiners, which maintains all of the requirements for education, supervision, examination, and renewal. Licensure details are examined further below, along with salary information from the U.S. Bureau of Labor Statistics and scholarships available to aspiring LPCs in Colorado.
Help P-12 students in your community succeed. Earn your master's in school counseling from the University of Denver.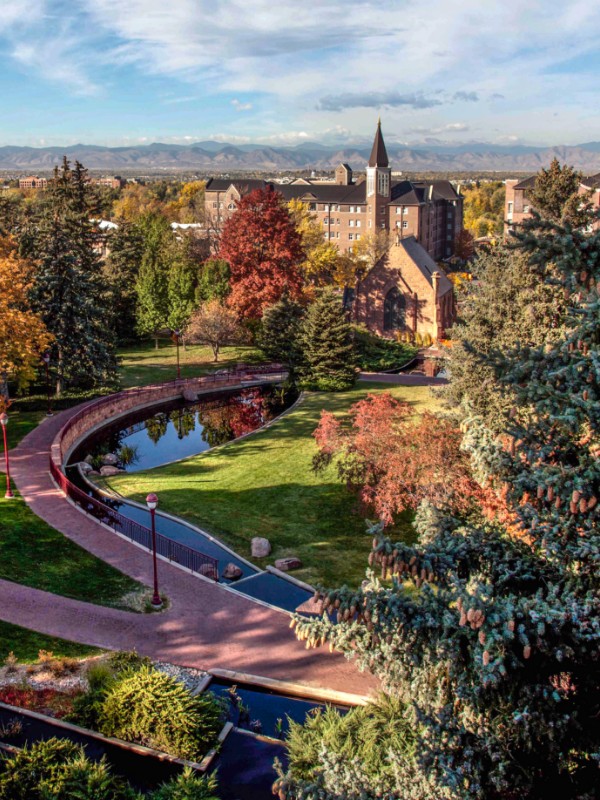 Master's in School Counseling Online from the University of Denver
Advocate for P-12 students and become an agent of change in your community. With no GRE required, earn your Master in School Counseling online in as few as 24 months from the University of Denver. Gain valuable skills through a CACREP accredited curriculum centered on social justice.
No GRE required
Live, online classes
Complete in as few as 24 months
info SPONSORED
Counselor Education in Colorado
LPC licensure in Colorado requires the completion of a master's in professional counseling, a doctoral degree in counseling or any graduate degree in an equivalent subject. This program should be approved by the Council for Accreditation of Counseling and Related Educational Programs (CACREP). Candidates who graduated from a non-CACREP-approved program must have their educational credentials evaluated by the Center for Credential and Education (CCE).
In order to qualify for Colorado LPC licensure, the master's or doctoral level study must be obtained from a regionally accredited institution of higher learning and include two or more graduate semester hours in each of the following content areas:
Human Growth & Development
Social & Cultural Foundations
Helping Relationships
Groups
Lifestyles & Career Development
Appraisal
Research & Evaluation
Professional Orientation
Internship Requirements
The Colorado State Board of Licensed Professional Counselor Examiners requires applicants to have 700 hours of supervised professional practice as a part of their graduate degree program. If this requirement is not met, applicants must submit evidence of post-degree work experience for credit and consideration.
Supervision Hours
Aspiring LPCs in Colorado must complete a number of hours of post-degree practice in psychotherapy under supervision from an LPC, licensed clinical social worker, marriage and family therapist, or psychologist. As previously noted, aspiring LPCs under supervision are known as Provisional Licensed Professional Counselors.
The required number of supervision hours hinges on the Provisional LPC's degree in professional counseling:
For master's degree holders: at least 2,000 hours of supervision distributed over two years
For each 1,000 hours of supervised practice, the applicant must receive at least 50 hours of supervision—of which a minimum of 35 must be face to face. The remaining may be group supervision.
Examination
LPC licensure in Colorado requires a passing score on the State Board of Licensed Professional Counselor Examiners' developed jurisprudence examination, as well as an examination administered by the National Board for Certified Counselors, such as the National Counselor Examination for Licensure or the National Clinical Mental Health Counselor Exam.
This online test is an open-book examination made up of multiple-choice questions on general mental health statutes, confidentiality and privilege, prohibited activities/violations, board rules, emergency procedures, and disciplinary provisions/proceedings.
National Counselor Examination for Licensure and Certification (NCE)
The NCE is a 200-question multiple-choice examination administered by the National Board for Certified Counselors (NBCC). It assesses knowledge, skills, and abilities in effective counseling services.
The National Clinical Mental Health Counselor Exam (NCMHCE)
The NCMHCE tests knowledge of assessment, diagnosis, counseling, psychotherapy, administration, consultation, and supervision. It consists of 10 clinical mental health counseling cases and assesses clinical problem-solving ability by testing identification, analysis, and treatment. It is also administered by the NBCC.
LPC Licensure Fees
LPCs in Colorado can expect to pay the following fees for their application, renewal, examination, and other licensure expenses:
LPC Application: $70
Provisional LPC Application: $70
Colorado Mental Health Jurisprudence Examination: $18
LPC License Renewal
All Colorado LPC licenses expire on August 31 of odd-numbered years. Licenses have a grace period of 60 days following expiration, during which the LPC may continue to practice and renew the license. License renewal involves submitting the appropriate fees as well as documentation regarding continuing education.
Continuing Education for LPCs
License renewal requires the completion of 40 professional development hours (PDH) each cycle, with no more than 20 PDH in a single Professional Development Activity. These activities may include volunteer service, mentor/supervision, presenting, coursework, independent learning, and group learning. Besides documentation of their Professional Development Activity, LPCs' Continuing Professional Development portfolios should include professional practice surveys and learning plans.
Additional Information
For Counselors Licensed in Other States
The State Board of Licensed Professional Counselors has an alternative route to licensure for counselors who have already obtained their professional counseling licenses in other states. This process is known as "licensure by endorsement" and is delineated by Rule 12 in the Colorado Professional Counselor Rules.
Average Counselor Salary in Colorado
According to the May 2021 Bureau of Labor Statistics, the following types of counselors in Colorado can expect to earn the corresponding average hourly wage and average annual wage:
| Type of Counselor | Average Hourly Wage | Average Annual Wage |
| --- | --- | --- |
| Substance Abuse, Behavioral Disorder, and Mental Health Counselors | $27.84 | $57,900 |
| Educational, Guidance, School, and Vocational Counselor | $28.37 | $59,010 |
| Rehabilitation Counselor | $23.11 | $48,060 |
| All Other Counselors | $28.65 | $59,590 |
Colorado Counseling Scholarships
The following scholarships are available to aspiring LPCs in Colorado:
Colorado Health Service Corps Loan Repayment Program
Type: Loan Repayment
Amount: Between $30,000 and 60,000
Description: LPCs are eligible to apply for loan repayment assistance in exchange for working in a health professional shortage area (HPSA) at a site approved by the Colorado Health Service Corps. Funding is tied to HPSA score and is in exchange for three years of full-time or part-time service.
Scholarships for Disadvantaged Students
Type: Scholarship
Amount: To Be Decided by School
Description: The Scholarships for Disadvantaged Students program provides funds to schools, which in turn offer scholarships to full-time, financially needy students from disadvantaged backgrounds who are studying professional counseling (amongst other health professions).
*Licensure information including requirements, salaries, renewals, scholarships and fees were retrieved as of July 2022. Information may have changed since, check with the state's board of licensing for more information.
Last Updated: July 2022