Interview with Tonya Davis, Assistant Director of Clinical Training at Counseling@Northwestern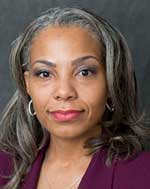 About Tonya Davis: Tonya Davis is the assistant director of clinical training for Northwestern University The Family Institute's Counseling@Northwestern, a 2U powered program. She has just celebrated her one year anniversary in this position.
As a Licensed Clinical Professional Counselor (LCPC) in the state of Illinois she is also pursuing her Doctorate (Ph.D.) in Counselor Education and Supervision and anticipates completing her Ph.D. this December 2017. Tonya has a Master of Science (MS) is in Clinical Mental Health. Over the years, she has worked at a substance and addictions agency, in crisis intervention and stabilization and now currently, for over the last 7 plus years, she has been serving in a private practice. Tonya has over a decade of direct professional counseling experience working with adults, children, adolescents, couples, individuals and families. Her areas of clinical specialty include cultural issues, gender identity issues, crisis and trauma, couple, family, and parenting issues, Christian counseling, depression, anxiety, grief and loss. Tonya has also been teaching at the university level since 2006, teaching practicum and internship courses along with supervising practicum and internship students.
At Northwestern University, Tonya has taught at the undergraduate, graduate, and post-graduate level offering courses including Counseling Skills and Strategies (team approach), Counseling Practicum, Multicultural Diversity, and many others in face-to-face, hybrid, and online formats. For the Counseling@Northwestern program, Tonya has taught Ethics and Legal Issues in Counseling and currently Cultural Diversity as well as a few sections of practicum and internship courses.
When not at Northwestern University, Tonya loves her family time with her husband, two adult children and extended family. She has a love for reading, specifically vintage books, as well as classic black and white films made between 1920-1960. Golf is another one of her favorite things to do. While she is not not where she would like be just yet, her last par keeps Tonya coming back.
[OnlineCounselingPrograms.com] What would you say has influenced you to become a counselor educator, specifically with the online counseling program for Counseling@Northwestern?
[Tonya Davis] While a master level student, I had an opportunity to teach upper level undergrads an Introduction to Counseling course. Teaching this course would pay my tuition but what I did not anticipate in return was that the reward I received went far beyond a tuition reimbursement. I knew after my first semester of teaching that I would be going on to get my doctorate. It was love at first sight. Shortly after I found my way into my current doctoral program and having my "had me at hello" moment, I found myself co-teaching with a very prominent faculty member. This teaching experience was my first time teaching in a hybrid approach. Hybrid means to teach half the class in person and the other half in an online format. I loved this! It really enabled me to get a well-versed understanding of how to infuse theoretical concepts into very practical ways via the online platform. Needless to say, when I had the opportunity to teach online with Counseling@Northwestern I was already completely sold on the concept of how valuable teaching in this manner truly was and just how effective learning in this capacity truly is.
[OnlineCounselingPrograms.com] Your research interests expand from specific counseling experiences to different approaches to therapy and relationships. How has your research in the clinical supervisory relationship supported your role as assistant director of clinical training?
[Tonya Davis] My research regarding the clinical supervisory relationship has been heavily steeped in multicultural competency and awareness. I am always in some capacity looking at my role as an assistant director of clinical training (ADCT) through a cross-racial supervisory lens. The students that I serve in this role as well as the clients they serve can benefit from my multicultural competence and awareness. In essence, my students may or may not look racially/ethnically different from me but their clients might. Because this is highly plausible, being knowledgeable of my multicultural competence and awareness, or lack thereof, is essential to being either helpful or hurtful. If I am going to put my absolute best foot forward within my clinical supervisory relationships, it behooves me to actively work toward being intentionally mindful of differences and similarities and how each has the power to play an important role in helping clients to experience their desired forward movement. Identifying and understanding the below the surface of awareness type of resistances as well as the highly visible cross-racial resistances potentially occurring within clinical supervision can help bring about a sense of resolution for the supervisee as well as the supervisee's client.
[OnlineCounselingPrograms.com] Would you say that students at Counseling@Northwestern discover which clinical specialties they wish to pursue post-graduation from their practicum and internship experiences?
[Tonya Davis] That's a tough question to answer. I would say that students discover which clinical specialty they wish to pursue at such varied rates. Some students go into practicum with a full understanding of what specialty area they would like to pursue. Others may not figure this out until sometime during their internship experience, while some students may not know until they attend a conference post-graduation. I would be interested in seeing what this says through data.
[OnlineCounselingPrograms.com] Are there any differences between clinical placement for on-campus students as compared to online counseling students?
[Tonya Davis] Yes, there are some slight differences between the on-campus students and the online counseling students. I would refer you to the Counseling@Northwestern FAQ's pertaining to both. Otherwise, the Counseling@Northwestern students would experience clinical placement in their perspective cities and states just like on-campus students would.
[OnlineCounselingPrograms.com] Currently, you teach Cultural Diversity in Counseling for Counseling@Northwestern. Can you explain the value of this course as a part of counselor education and how it is delivered in an online format?
[Tonya Davis] This course is imperative to embarking upon a journey toward developing cultural discernment. This type of intelligence is essential if students are to gain a genuine and in-depth understanding of self and the people around them. Exactly how this cultural intelligence is obtained has everything to do with how open and willing the student is to it. As stated directly in the course syllabus:
"Students will explore the depth and complexities of the psychodynamic perspective, its emphasis on the centrality of the therapeutic relationship, and the importance of the therapist's self-reflection in the following ways: students will gain a deeper understanding of multicultural counseling and advocacy competencies in counseling diverse populations. Students will be taught how to reflect upon their own lives and clinical experiences and how these experiences will inform their work. This course will help facilitate an incorporation of multiculturalism into students' conceptualization of their work as reflective practitioners. [The goal is for] Students will learn how to respect and appreciate diversity and multiculturalism in the lives of their clients and themselves. Students will learn what it means to be effective culturally competent counselors who practice in a diverse landscape."
Lastly, the online format engages many learning styles. There are weekly readings along with 90-minutes of asynchronous materials presented every week. On their own time, students spend this time understanding the video lectures with bi-directional learning prompts that are to be completed before the weekly 90-minute live section. During the pre-scheduled weekly 90-minute live session, by way of a Skype format type platform, we can physically see one another in real time and are able to spend time co-constructing meaning regarding the asynchronous material and readings via class discussions, case presentation and conceptualization in large and small group format, role plays, etc. These aspects of the course elicit discussions, critical thinking and analysis.
[OnlineCounselingPrograms.com] How do you support Counseling@Northwestern students during their practicum and internship experiences to help them develop their counseling skills, theoretical orientation, and professional identity as a collaborative counselor?
[Tonya Davis] I support Counseling@Northwestern students by way of the many roles I serve. I am an assistant director of clinical training, an academic advisor, core faculty member, capstone mentor during internship year, an advocate, part of the support system in place for students experiencing their group immersion conference in practicum year and a supporter to their university level preceptor as well as their clinical placement site supervisors for both practicum and internship year. I provide these types of support to Counseling@Northwestern students inside the classroom and out. I am all in, with all hands-on deck. I believe that because of this type of investment, our students have the full capacity to be self-reflective, authentic, congruent and multiculturally competent and aware clinicians ready to go forth and be strong social justice advocates and intentionally thoughtful change agents in the field of counseling and beyond.
For more information on the online master of arts in counseling program at Northwestern University, a 2U powered program. Visit their profile and take your first step toward higher education.
Last updated: April 2020