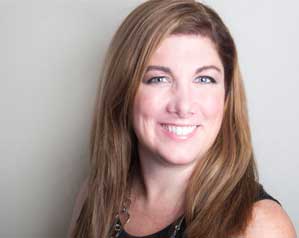 Interview with Joyce Marter, LCPC
Counseling Blog Author
LCPC, Founder & CEO of Urban Balance
About Joyce: Joyce Marter, LCPC is Founder & CEO of Urban Balance, a counseling practice with over 100 therapists working from seven locations in Chicagoland and one in St. Louis. Marter was honored to be selected by Crain's Chicago Business for their "40 Under 40" list of 2010 and as Distinguished Alumni of the Masters in Counseling Psychology Program at Northwestern University in 2008. She is a two-term Past-President of the Illinois Mental Health Counselors Association, Immediate Past-President of the Illinois Counseling Association and Midwest Chair-Elect of the American Counseling Association. Marter is a blogger for The Huffington Post and PsychCentral and has been featured in media outlets such as The Wall Street Journal, US News & World Report and MTV.
[OnlineCounselingPrograms.com] When and why did you originally create the Urban Balance blog?
[Joyce Marter, LCPC] The blog was created around 2009, a few years after founding Urban Balance in 2004. A friend who works in technology suggested a blog to generate more searchable content to drive visitors to our website. "What's a blog?" I replied. I was clueless about blogging and did not consider myself a writer. He suggested writing short pieces on subjects prospective clients might be interested in learning about and including practical tips. My first few blogs were generic and awkward, but with practice I found my voice and started having fun!
The blog has led to amazing things for our practice including media exposure that exponentially increased referrals. For example, in 2011 a reporter from The Wall Street Journal called regarding a blog on Pre-Baby Couples Counseling and quoted me in a cover story. Shortly afterwards, I was invited to become a blogger for PsychCentral and The Huffington Post (never would I have imagined!). It's been very enjoyable and some of my pieces have been picked up by magazines such as Spirituality & Health. I've been invited to contribute to radio and TV segments―the most exciting was being invited to conduct group therapy on MTV's Real World!
Today, we invite all our staff therapists to contribute to the Urban Balance blog and it's taken an even richer dimension. It's incredible to have a space for them to share their insights about their areas of clinical expertise and this has led to increased exposure for our practice.
[OnlineCounselingPrograms.com] What do you hope to achieve by maintaining your blog?
[Joyce Marter, LCPC] Our blog is a way to carry out our mission to destigmatize mental health, addiction and relationship issues and to normalize therapy as a healthy and proactive aspect of routine wellness and healthcare. We all can benefit from therapy or counseling at different points in our lives as we deal with issues such as stress, anxiety and depression that are common aspects of the human condition.
We also hope to educate clients that therapy can help them overcome or better manage these issues, align with their authentic selves, and increase their happiness and success both personally and professionally. We emphasize that our practice makes therapy accessible and affordable by accepting most insurance and offering sliding-fee services with our clinical interns. We love being part of a ripple effect of so much healing and positive change in our communities!
[OnlineCounselingPrograms.com] We'd love to hear about your educational journey that led you to where you are today. How, when, and why did you decide to become a professional counselor?
[Joyce Marter, LCPC] I'm very grateful that the Ohio State University had a program for undecided majors when I was an undergraduate student. They encouraged us to major in what we most enjoyed studying. Psychology fascinated me as I'm extremely interested in people's deeper emotional, relational and intrapsychic experiences.
Because I knew I was wanted to do clinical work versus research or teaching, I pursued a Masters in Counseling Psychology at Northwestern University. My training there opened my eyes and gave me a language and a lens through which to understand myself and the world around me.
Originally, I had thought I wanted to be a psychologist, but that is only because I thought that's what I needed to be to succeed as a clinician. When I learned I could practice independently as a masters-level, Licensed Clinical Professional Counselor, I decided not to pursue a doctorate degree.
I have been extremely pleased with my level of credentialing and appreciate working in a field that allows for so many different professional experiences. I've worked in addictions treatment, for an Employee Assistance Program and in private practice. I've enjoyed working with diverse clientele and being able to do a variety of things, such as public speaking, corporate training, writing and providing clinical consultation and supervision for therapists-in-training.
[OnlineCounselingPrograms.com] How has both your private practice and your blog evolved over the years, and what do you think has been the major factor(s) contributing to the success of both?
[Joyce Marter, LCPC] The blog has grown through having our staff contribute and this has helped our practice grow by leaps and bounds. We have expanded to over 100 therapists working from seven locations (soon to be eight!) in Greater Chicago and one in St. Louis.
The key to the success of both the blog and the practice is our staff. We hire clinicians who, in addition to being well-trained and experienced, are kind and compassionate people. Their expertise and talent have made our blog and practice successful.
Also, our business model makes therapy accessible by accepting insurance is a win for the clients. Urban Balance providing contemporary office space, billing and credentialing services, opportunities for supervision/consultation, and strong referrals of diverse clients is a win for the staff. We also promote healthy work/life balance for staff and clients. I believe the universe will support businesses that are doing good in the world and are a win for both the clients and the staff.
[OnlineCounselingPrograms.com] Is there any advice you'd give to those who hope to launch their own private practice?
[Joyce Marter, LCPC] Do it! Private practice is meaningful work that is also flexible and can be lucrative. I love to coach therapists on developing and growing their practices and do this a few hours per week in my office or via phone or Skype. It is important to do things legally and ethically, so it is good to seek consultation from an experienced private practitioner.
If you are interested in starting a group practice, it is wise to also consult an attorney experienced with mental health law and an accountant who works with small businesses. The return on these investments will be great and will save you many hassles in the long run.
[OnlineCounselingPrograms.com] In addition to being the founder and CEO of Urban Balance, you are also the immediate past president of the Illinois Counseling Association. In that position, what do you see as the major challenges facing counselors in the Illinois area today?
[Joyce Marter, LCPC] In Illinois, counselors have been challenged with issues related to the state operating without a budget for the past two years. Many employers who rely on state funding have cut back programming or closed their doors altogether. This has not been positive for counselors working in community or social service settings. For those in private practice, there are many clients who have Medicaid or Medicare and are having a difficult time accessing services. Unfortunately, counselors are not eligible for Medicaid or Medicare reimbursement.
These are issues I (along with hundreds of colleagues across the country) have advocated for over the past few years through the American Counseling Association. At ACA's Institute for Leadership Training each July, along with my Illinois colleagues, I've met with our senators and members of congress asking them to support bills that would allow counselor inclusion in Medicaid and Medicare laws. We've also asked the representatives to support more funding for school counselors and to encourage the hiring of counselors in the VA hospitals.
Through my role as the Midwest Region Chair-Elect of the American Counseling Association, I will continue to work with other state leaders to advocate for counselors and our clients on a national level. Portability of licensure across states is another issue being addressed by ACA and other counseling organizations such as the National Board of Certified Counselors (NBCC).
[OnlineCounselingPrograms.com] To give our readers some of your insider's perspective on how counseling associations advocate for those in the profession, can you share your personal insight on how the ICA works to address some of those challenges?
[Joyce Marter, LCPC] Counseling associations play a very important role in advocacy for the profession. As a two-term Past President of the Illinois Mental Health Counselors Association (a division of ICA), I had the opportunity to work closely with the Executive Director, Dan Stasi. He informs members on legislative updates that impact counselors and our license to practice. Stasi is also the lobbyist for the Coalition of Illinois Counseling Organizations, which includes ICA and other groups, such as art, dance and pastoral counselors. CICO organizes an annual Day on the Hill for counselors and graduate students in counseling to meet with state representatives and discuss bills related to our work. The counseling organizations also conduct social media and email campaigns to encourage members to reach out to state representatives to advocate for the laws that impact our ability to practice effectively.
As counselors, it is critical that we support our professional organizations through membership, attending conferences and even considering serving on a board or volunteering on a committee. Our profession is newer and our associations smaller than our colleagues who are social workers, psychologists or marriage and family therapists. Together, we counselors are stronger as a profession.
[OnlineCounselingPrograms.com] Is there anything else you'd like to add?
[Joyce Marter, LCPC] I'm extremely passionate about working in the field of counseling and am eternally grateful to have found it! I encourage anybody interested in it to pursue it, whether it is your first career or a change in career. There are many counselors who come into the profession after having done something else, and their previous work and life experience often set them up for increased success in the profession.
Thank you, Joyce! Learn more about Urban Balance on our Counseling Blogs list.
Last updated: April 2020