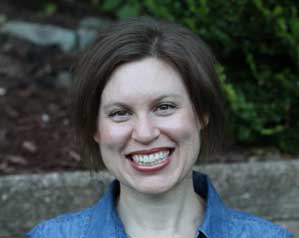 Interview with Mary Stegmeir
Counseling Blog Author
Assistant Director for Content and Marketing at NACAC
About Mary: Mary Stegmeir has served as the National Association for College Admission Counseling's (NACAC) assistant director of content and marketing since 2015. Prior to that she spent a decade covering education as a newspaper reporter in the Midwest. She's a proud University of Minnesota alumna (go Gophers!) who enjoys writing, playing volleyball, and training her cat, Quill, in the ninja arts.
[OnlineCounselingPrograms.com] Admitted is a great resource for career and college discovery, exploration, and resources. What was the motivation for the development of this blog by the NACAC?
[Mary Stegmeir] NACAC serves nearly 16,000 admission professionals. Our members work in high schools, on college campuses, and in conjunction with community-based college access organizations. Some even oversee their own businesses or work as independent education consultants. Their days are packed, and Admitted was built with their busy schedules in mind. We help our readers stay in the know by providing quick hits highlighting the latest news, research, and trends in college admission.
[OnlineCounselingPrograms.com] What do you hope to gain by advocating for students and the college admission counseling profession?
[Mary Stegmeir] NACAC has no shortage of passionate members and staffers who advocate for policies and programs that would expand access to higher education and make it easier to navigate the college admission process. Many of our posts highlight the good work those dedicated individuals are doing. By shining a spotlight on promising programs and innovative approaches within the world of college admission, we hope to spark conversation and debate about how to make college possible for more students.
[OnlineCounselingPrograms.com] For our readers who may be unfamiliar with the National Association for College Admission Counseling (NACAC), could you briefly describe the mission and impact of the organization? How does Admitted help to advance that mission?
[Mary Stegmeir] NACAC provides counseling and admission professionals with the expert advice and tools they need to better serve students and improve the college transition process. The mission of the Admitted blog is similar to that of the association itself. The stories, tips, and research we publish are selected with an eye toward supporting our members as they undertake the critically important work of helping students find their way to (and through) college.
[OnlineCounselingPrograms.com] As the senior writer for Admitted and The Journal of College Admission, where do you see these two intersect and how are they different?
[Mary Stegmeir] The Journal of College Admission and Admitted are sister publications. The Journal is published quarterly, while the blog is updated every weekday with a new post. Readers will notice a lot of crossover. Sometimes a new development that only garners a few paragraphs on the blog will be fleshed out as a feature story in the Journal. Every edition of the Journal also includes links to the quarter's top Admitted posts.
[OnlineCounselingPrograms.com] Has there been any single challenge facing college admissions counselors that you've seen intensifying recently? If so, why do you think that challenge is more prominent now than in the past?
[Mary Stegmeir] Workload — especially for counselors in public schools! According to the latest national data, the US student-to-counselor ratio is 476-to-1. (The American School Counselor Association recommends a 250-to-1 ratio.) With such large caseloads, counselors often struggle to carve out the time they need to really connect with students and their families. And those interactions are so powerful, especially when it comes to encouraging college attendance. NACAC research shows that students who meet one-on-one with a school counselor are three times more likely to attend college and seven times more likely to apply for federal financial aid.
[OnlineCounselingPrograms.com] In your research and contributions to Admitted and The Journal of College Admission, what have you found to be an increasing trend that school counselors and college admission counselors should be informed about?
[Mary Stegmeir] We've published quite a few posts about how targeted text messages can help students navigate the college admission process. Conventional wisdom has long held that texting can distract students from their studies. But new research shows that timely messages reminding teens to complete important tasks, such as registering for a college admission test or filing a FAFSA, can make a difference. Ben Castleman's book, The 160-Character Solution, is a great resource for anyone wanting to learn more.
Thank you, Mary! Learn more about Admitted on our Counseling Blogs list.
Last updated: April 2020