Disclosing a Mental Health Condition at Work

The content in this article is for informational purposes only; individuals should always consult with a mental health professional before making decisions related to personal health.
The National Institute of Mental Health reported in 2019 that more than 1 in 5 adults in the United States has a mental health condition. While symptoms can affect a person's behavior and engagement with their work, the outcomes are different for everyone—and often not what people would assume.
"The bottom line is that many workers with serious mental illness are capable of working in regular, competitive workplaces and supporting themselves," said health economist Marjorie L. Baldwin, PhD.
Baldwin, a professor at Arizona State University, is currently the principal investigator conducting a four-year study about the process of disclosing a severe mental health condition to an employer, including data about the decision to disclose and others' reactions to a disclosure.
Being open about a mental health condition can be daunting, but ongoing research shows that avoiding disclosure can lead to burnout and other negative outcomes while transparency can lead to better workplace environments and reduce stigma about mental health.
Benefits of Talking About Mental Health at Work
Disclosing a mental health condition is not a legal requirement, but there can be benefits to being open about it with your employer or professional peers.
The Americans with Disabilities Act (ADA) ensures rights to protections and accommodations in the workplace for people with disabilities, which they define as "physical or mental impairment that substantially limits one or more major life activities."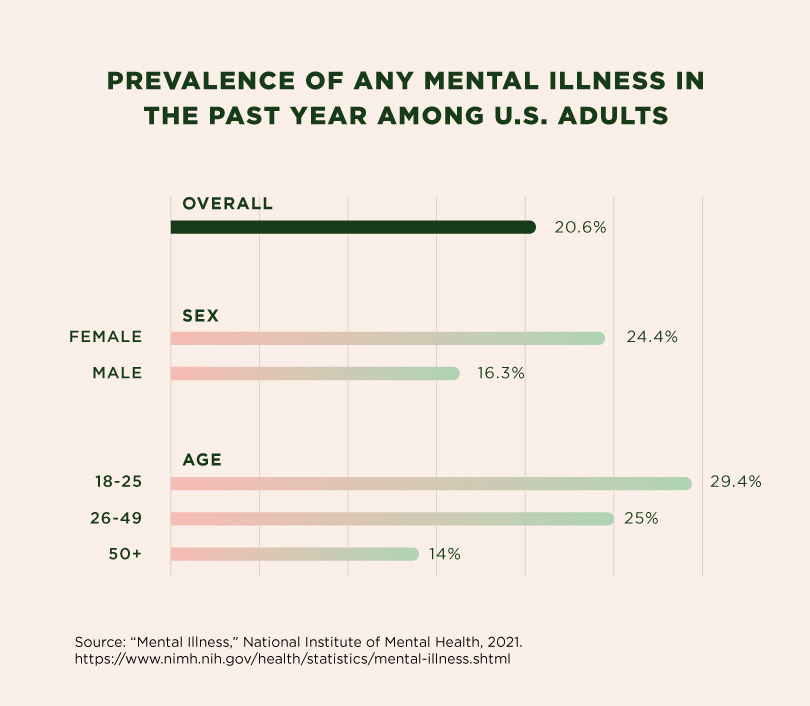 Any mental illness (AMI) is a term used by the National Institute of Mental Health to describe a mental, behavioral or emotional disorder.
Go to a tabular version at the bottom of this page of Prevalence of Any Mental Illness in the Past Year Among U.S. Adults, 2019.
Discrimination is illegal under the ADA, and employees with a qualifying disability are entitled to two main protections: the right to privacy about their personal information and the right to receive accommodations that help them perform their jobs.
Baldwin says people need to be more aware of their rights under the ADA.
"That goes for the employer's side and the counselor's side, too," she said. "Employers need to know what they're required to do for a worker with a disability and that they cannot reveal any personal health information to other employees."
While some protections can be addressed by the ADA, some workers may not have a clinically diagnosed condition and may feel their needs aren't legitimate enough to discuss with an employer. Research from the National Association for Mental Illness shows this misconception, and the resulting insecurities lead to higher rates of employee burnout and more severe outcomes for mental illness (PDF, 4.4MB).
"In some cases, if the employer has any experience of mental illness themselves or their own family, they might be able to relate to the worker's experience compassionately," Baldwin said of her research findings so far. But each person and work environment is different, and it can be hard to predict how a manager might react.
Before deciding whether to disclose, it can be helpful for workers to consider the benefits and costs of making their mental illness known to an employer (PDF, 591KB).
Benefits:
Legal protections and accommodations in the workplace
Informal accommodations, including flexible work hours, breaks, etc.
Better understanding of needs from your employer
Relief from pressure to hide your symptoms or authentic persona
Opportunities to reduce stigma for other colleagues
Baldwin said that the fear of discrimination is commonly cited by respondents in her research surveys.
"When we stigmatize a group, we tend to not want to be around them," she said. Social isolation, microaggressions and harassment are all results of the stigma related to mental illness. While discrimination is illegal, it can take many forms, and can sometimes be displayed so subtly that the recipient feels unable to report it or be taken seriously.
She also noted that the fear of having private information outed to coworkers is a common risk calculation that individuals take when disclosing a condition. Outing others' mental health concerns is an invasion of privacy, but Baldwin said that sometimes the results can be positive.
"In some cases when people were outed, the employer's response was compassionate, helpful, understanding," she said. "So, it doesn't always necessarily be a negative situation, and sometimes it happens in ways that an employee might be able to predict."
Making a Plan to Disclose a Mental Health Condition
A professional mental health counselor or therapist can offer support with creating a plan for disclosure. Dr. Zeyad Layous, a clinical psychologist in Falls Church, Virginia, says that counselors can work with clients to help them consider crucial aspects of the disclosure process and provide strategies for effective communication.
"The first thing to think about with the client would be formulating what they hope to achieve by disclosing," Layous said, "and making sure their goals are realistic or feasible."
For example, identifying specific accommodations that would help with job performance or comfort in the workplace like flexible hours, frequent breaks or the ability to work remotely. Not every accommodation will be possible in different work environments, but Layous recommends speaking directly with a representative from human resources because they're likely to have experience with accommodations and mental health concerns.
Layous also said counselors can help clients work through their fears of sharing sensitive information and develop strategies for initiating a conversation with an employer based on individual symptoms or conditions.
"If they have a lot of anxiety, they might prefer to craft an email and control exactly what they write," he said, "rather than getting nervous in person and not getting the information across as clearly as they want."
Talking about mental health can be vulnerable and complicated, so Layous and Baldwin recommend making a few considerations before jumping into a candid conversation.
Considerations for Disclosing a Mental Health Condition
DETAILS
Are you ready to disclose your mental health status at work?
How much information do you want to share?
How specific do you want to be about your experience?
What method of communication would you prefer?
Will disclosure make you fear for your privacy?
OUTCOMES
What accommodations would benefit you at work?
What are you hoping to gain from the conversation?
What rights are you entitled to in your workplace?
Are you able to do your job without accommodations?
SUPPORT
What's your workplace culture like?
Do you have a support system of colleagues who can help you?
What's your support system like outside of work?
How open are your colleagues to discussing vulnerable information?
Are you able to be your most authentic self with or without disclosing?
In addition to creating a plan, Layous said counselors can help clients by providing emotional support, offering to speak with employers and even confirming with HR representatives why specific accommodations may be clinically effective.
"Workplace realities often make it difficult for employers to implement the kind of accommodations that are being asked, even if we believe it's perfectly legal," he said. "So people have to really feel ready to disclose, and they have to know what sort of accommodations they're looking for."
How to Support Employees with a Mental Health Condition
"Mental illness is cyclical—symptoms might be controlled for a while, but then there might be a recurrence," Baldwin said. "In some cases, the symptoms themselves out a worker, and we had a number of workers tell us that their employer came to them and noticed." Baldwin said.
If workers aren't able to manage their symptoms, they may have to talk about their condition before they're ready.
Baldwin said there's much to be gained from acknowledging an employee's symptoms, even if you're worried about overstepping or saying the wrong thing. Even if an employee is not experiencing a clinically diagnosed condition, being open and affirming of their needs can make a difference.
"It shows their manager is sensitive enough to know something was wrong and caring enough to inquire about it," Baldwin said.
While each situation is unique, Baldwin and Layous identified several strategies for affirming, inclusive and nonjudgmental ways to respond to an employee who has decided to disclose a mental health condition.
Responding to a Colleague's Mental Health Disclosure
DO
Thank them for their vulnerability and candor.
Let them know the conversation is confidential.
Ask what accommodations would be helpful for them.
Offer to help find resources within the company or organization.
Commit to being an ally in the workplace for reducing stigma.
DON'T
Brush them off or express disbelief about their needs.
Share their private information with colleagues or peers.
Assume what they need from you or their work environment.
Infantilize their needs or ability to take care of themselves.
Speak negatively about people with mental health conditions.
When employers are intentional about the culture they are maintaining among employees, they can create accommodating, healthy work environments to help employees stay productive and stay in the workforce.
"We all benefit when people with mental illness are able to work," Baldwin said. "Workers benefit because they can support themselves, and society benefits because people are being productive and contributing."
Additional Resources about Mental Health
Mental Health in the Workplace, Centers for Disease Control
Should You Disclose a Mental Illness During the Hiring Process?, TalkSpace
Should You Disclose Your Mental Illness to Your Employer?, Social Security Administration
Working With a Mental Health Condition, United States Office of Women's Health
Resources to Support Employee Mental Health During COVID-19, Mind Share Partners
Prevalence of Any Mental Illness in the Past Year Among U.S. Adults
| Demographic | Percentage |
| --- | --- |
| Overall | 20.6 |
| Female | 24.5 |
| Male | 16.3 |
| Age 18–25 | 29.4 |
| Age 26–49 | 25 |
| Age 50+ | 14 |
Source: "Mental Illness," National Institute of Mental Health, 2021.