Managing Your Mental Health in College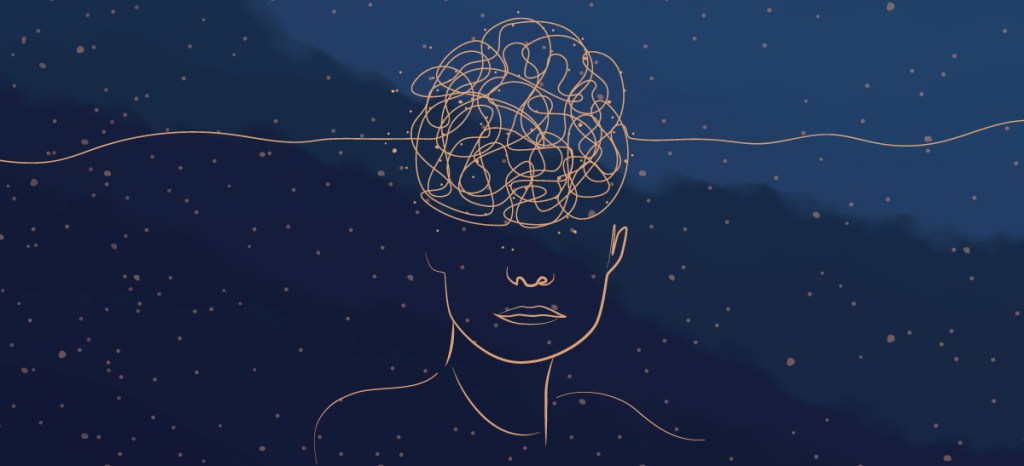 While one's college years are often thought of as fun and carefree, they're sometimes far from it. Many of today's college students feel immense pressure in multiple areas of their lives, including the academic, financial, social and family arenas. This pressure can lead to a range of mental health concerns, including anxiety, depression and stress and can seriously affect a student's ability to function.
The Center for Collegiate Mental Health at Pennsylvania State University reports that there was a 54.4% increase in college students who sought out mental health counseling in 2018. Among their chief concerns, anxiety and depression topped the list.
Mental Health Concerns for College Students
One in five Americans over the age of 18 is affected by mental illness (PDF, 500 KB). College students are not exempt; in fact, they're reporting mental illnesses at an increasing rate each year, according to a 2019 report from the Substance Abuse and Mental Health Services Administration (SAMHSA).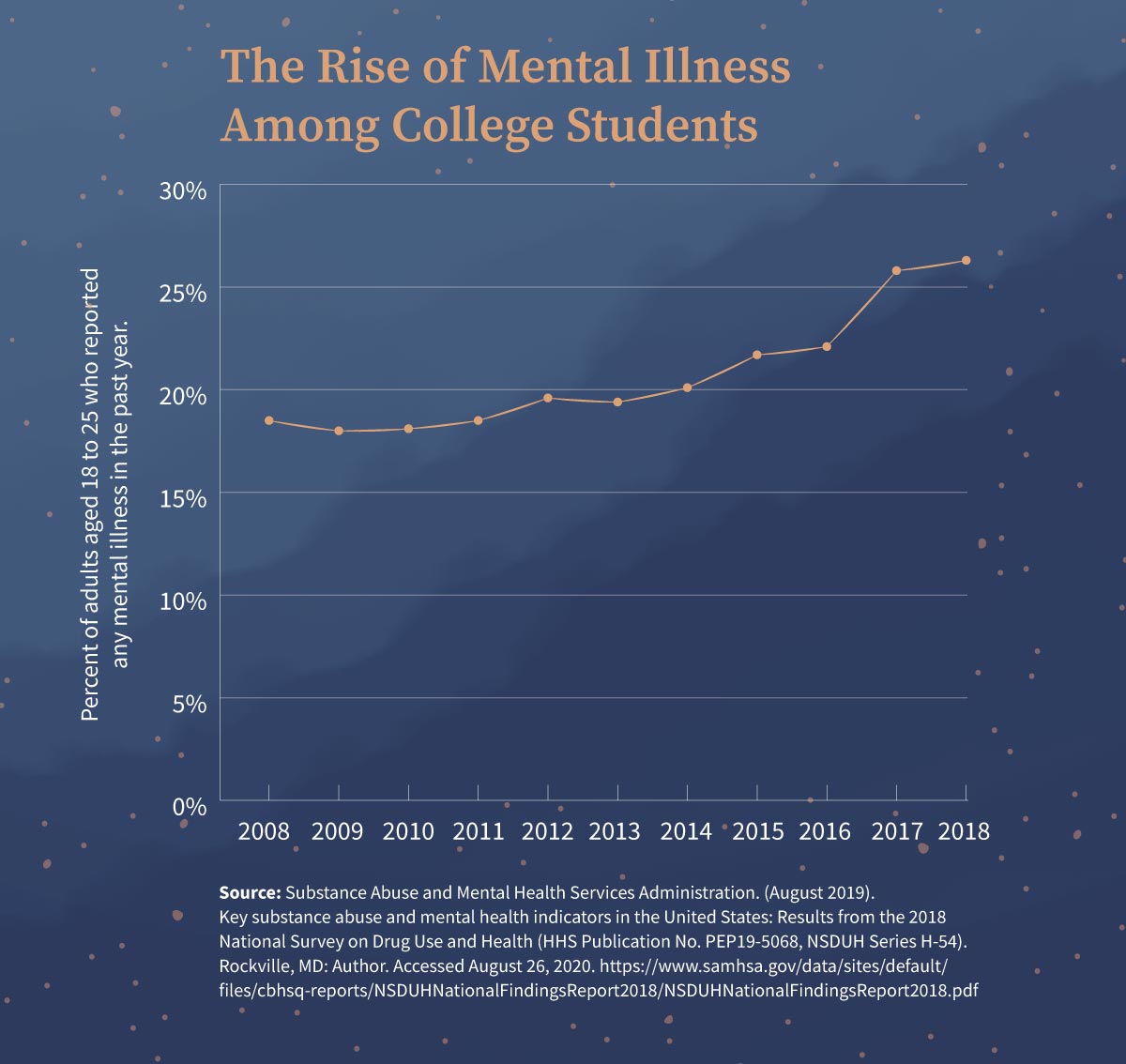 Go to a tabular version of The Rise of Mental Illness Among College Students.
There are distinct reasons why reports of mental illness such as anxiety, depression and stress among college students grow each year. A 2019 report from the Association for University and College Counseling Center Directors (PDF, 1.2 MB) indicates that each of these mental health challenges has a variety of contributing factors, including academic pressure, finances and personal relationships.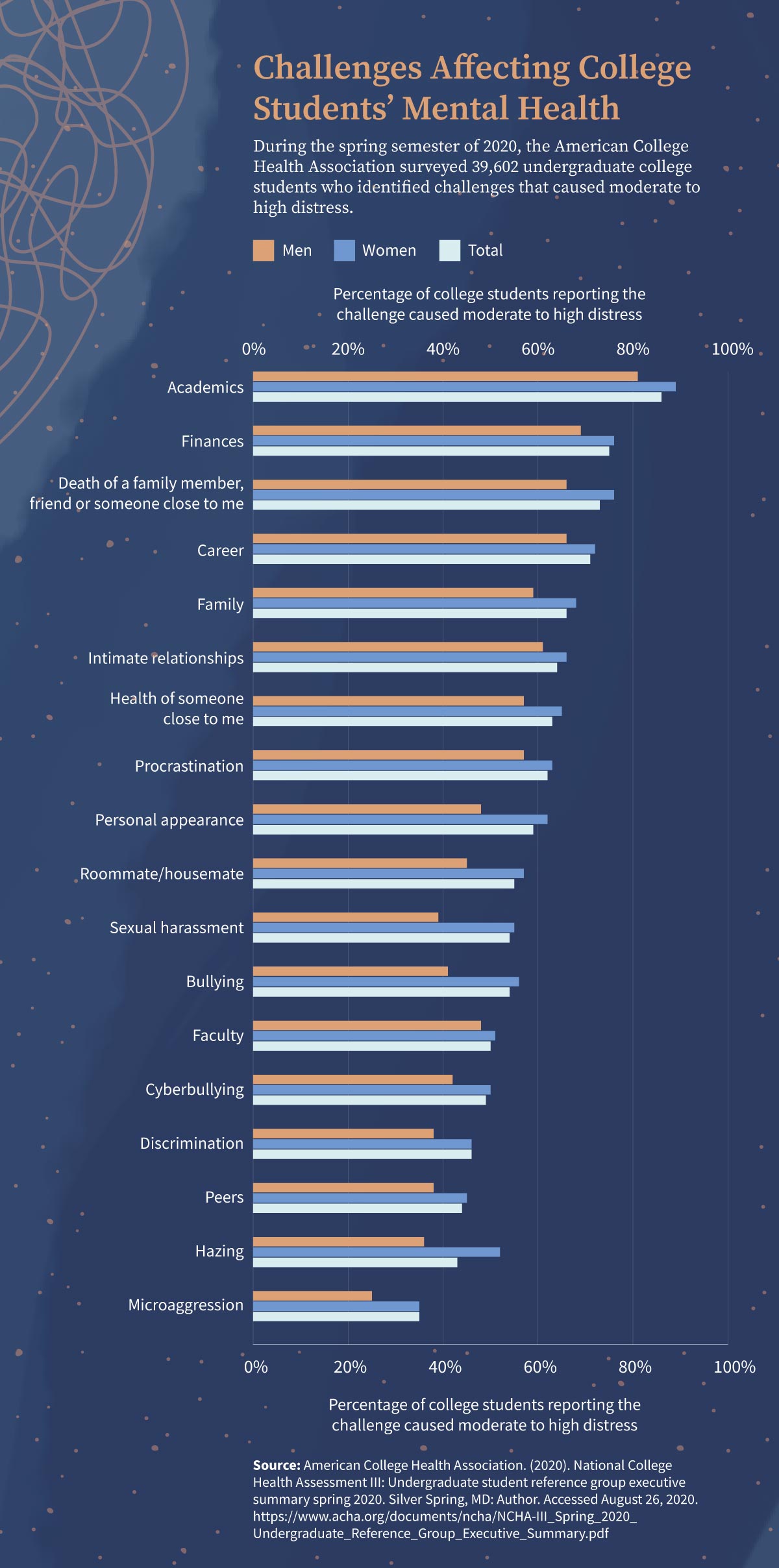 Go to a tabular version of Challenges Affecting College Students' Mental Health.
The factors affecting a student's well-being are broad and varied, but they're also co-occurring. Of those surveyed, 64% of the students reported experiencing three or more of the challenges listed in the assessment.
Social and environmental factors can be exacerbated by other determinants like socioeconomic status. For college students who aren't financially well-off, mental health challenges can be further compounded by the pressure of student debt and the challenges of working multiple jobs while completing school work.
Sleep, nutrition and other behaviors can also affect mental health, especially when a student's routines are shaped by the structure of class schedules, work-life balance and academic stress. According to the American Academy of Sleep Medicine, poor sleep patterns often develop in college and may lead to a variety of problems including lower GPA and poorer performance in the classroom, which can worsen stress or anxiety.
Mental health counselors can discuss positive sleep habits with college students and encourage those with anxiety, depression or high stress to create healthier sleeping patterns.
Seeking Mental Health Care in College
Many college students have recently moved away from home and are learning to independently manage their own health and well-being for the first time. Understanding what services are available, where to find help and whether insurance covers visits can be complicated and overwhelming.
At most colleges and universities, mental health counselors are available through campus health services and are prepared to serve students, answer common questions and provide quality care.
Some students may wonder, "Do I really need to see a professional?" Counselors can help even in seemingly small situations. A more helpful question might be: "How can I benefit from seeing a professional?"
Before seeking mental health care from a professional, it's helpful to know what to expect. A mental health counselor can help students with:
Academic stress and other challenges with learning
Feelings of depression or anxiety
Thoughts about suicide or self-harm
Patterns of disordered eating
Substance use and addictive behaviors
Relationships with significant others or family members
A counselor can be a trusted source of information, advice and assistance with a variety of problems. They can't, however, make problems disappear, make decisions for their clients or tell them how to behave.
Knowing when it's time to seek a counselor depends on the individual student. It can be helpful to take a personal inventory of feelings, thought patterns and coping mechanisms that might be disrupting daily life and relationships.
Though colleges and universities are committed to serving their student populations, STAT reported that the demand for mental health services at colleges has often been higher than the supply of counselors. With the steady increase in college students seeking services, many college and university mental health counseling centers can't keep up. Faced with long waitlists and closed campuses, some college students are turning to virtual counseling or traveling across state lines, though neither are guaranteed coverage by university health insurance policies.
What College Counselors Can Do to Support Students
Colleges are aware of the rise in student mental health concerns and are working to address the influx. According to Forbes, students seeking counseling treatment increased between 30% to 40%, and rapid access resources from counseling centers increased by 28%.
Even though there has been an increase in college students seeking mental health services, it doesn't mean that all students who need mental health treatment are being served appropriately.
Many students aren't aware of the services available to them on campus or may be limited in their ability to access them. Additionally, it may be a student's first time asking for help. Making mental health care resources approachable and affirming for students of all identities is crucial to encouraging students to seek them out.
Improving Mental Health Access on College Campuses
Colleges and universities can implement a number of changes to improve the services for students, including:
Supporting access to virtual or telehealth services
Employing a diverse group of counselors who can serve students with a wide range of identities
Hosting peer-run support groups for students with similar identities or needs
Providing assistance with both transportation and medical bills
Advertising mental health services on campus brochures, in academic buildings and on campus buses
Offering free consultation sessions to students who need more information
Holding seminars or webinars where counselors can publicly address large groups of students
Training professors and staff to recognize warning signs of mental health emergencies
All of these strategies can help schools identify students who may be struggling and create a caring and safe campus culture.
Self-Care for College Students' Mental Health Needs
If a therapist or counselor is out of reach for logistical, financial or other reasons, students can build a self-care toolkit that helps them manage their mental health and well-being independently.
Self-care is "the ability of individuals, families and communities to promote health, prevent disease, maintain health and to cope with illness and disability with or without the support of a health care provider," according to the World Health Organization (WHO).

Strategies for Self-Care on a Budget
Cleanse your social media.
Take a look at the accounts you follow on social media, and unfollow the ones that regularly contribute to feelings of stress, envy, anxiety or inferiority.
Write a memo to yourself for bad days.
A reminder of your self-worth from the person who knows you best is something you can revisit at any time.
Identify what's working.
Take an inventory of the people, places and activities that make you feel safe, understood and at peace. Make a list on your phone or in a notebook that's easy to access, and refer to it on days that you feel anxious or depressed and need a place to start.
Ask a trusted friend or family member to be on-call.
Regularly sharing your thoughts and feelings with someone who is both a confidante and an advocate for your well-being can help in the case of an emergency, or even just a bad day.
Set routines for nutrition, rest and exercise.
Making a plan—even for a few days at a time—can make the energy and effort required to take care of your body less intimidating when you're feeling drained or having trouble making decisions.
Leverage technology for a better night's sleep.
Setting a screen time limit or recurring downtime on your phone or other devices can reduce notifications that interrupt sleep and make it easier to go to bed on time.
Join an online support group.
When accessing an in-person provider isn't possible, reaching out to a virtual group with similar experiences can lead to a network of easy-to-access advice and meaningful support.
Save emergency phone numbers.
Make a list of campus health emergency hotlines, including 988, which is the shortcut for mental health emergencies as an alternative to dialing 911.
Self-care looks different for everyone.
Talk to a licensed professional to make an informed, individualized mental health care treatment plan that works for you.
Mental Health Resources for College Students
Instagram Accounts Related to Mental Health and Wellness
@browngirltherapy
@_lisaolivera
@drjennhardy
@alex_elle
@halfthestory
@millennial.therapist
@talkspace
@therapyforblackgirls
@trevorproject
@itgetsbetter
@the_rewm
@genderandfamilyproject
@therapyforlatinx
@latinxtherapy
Websites With Additional Mental Health Information
Helplines and Immediate Assistance
Factors Affecting College Students' Mental Health↑
| Year | Percentage of adults ages 18 to 25 who reported any mental illness in the past year. |
| --- | --- |
| 2008 | 18.5% |
| 2009 | 18% |
| 2010 | 18.1% |
| 2011 | 18.5% |
| 2012 | 19.6% |
| 2013 | 19.4% |
| 2014 | 20.1% |
| 2015 | 21.7% |
| 2016 | 22.1% |
| 2017 | 25.8% |
| 2018 | 26.3% |
Challenges Affecting College Students' Mental Health↑
| Challenge | Male | Female | Total |
| --- | --- | --- | --- |
| Academics | 81% | 89% | 86% |
| Finances | 69% | 76% | 75% |
| Death of a family member, friend or someone close to me | 66% | 76% | 73% |
| Career | 66% | 72% | 71% |
| Family | 59% | 68% | 66% |
| Intimate relationships | 61% | 66% | 64% |
| Health of someone close to me | 57% | 65% | 63% |
| Procrastination | 57% | 63% | 62% |
| Personal appearance | 48% | 62% | 59% |
| Roommate/housemate | 45% | 57% | 55% |
| Sexual harassment | 39% | 55% | 54% |
| Bullying | 41% | 56% | 54% |
Information on OnlineCounselingPrograms.com is not intended to be a substitute for professional medical advice. Always consult your physician or other qualified professionals with any questions you may have regarding mental health issues.
Do you have a passion for helping college students navigate these important transitions? Learn more about how to become a mental health counselor and how to become a college counselor.