Mental Health Resources for Young People of Color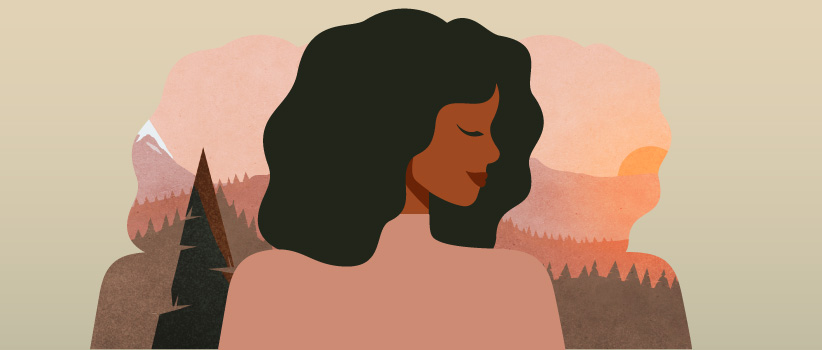 Young people of color are resilient. But being a young person of color in America today can mean consistent exposure to traumatic incidents directed at their communities, whether in person, on television or through social media. While awareness can spur action that results in change, it can also take an emotional toll on young people that can impact other facets of their lives like schooling and relationships.
Maintaining mental health is important and seeking help can be necessary to stay healthy. In this article, OnlineCounselingPrograms.com has assembled a variety of mental health-focused content and resources to support young people of color.
Jump to:
Organizations | Therapy Directories | Hotlines and Support Groups | Digital Resources | Short Films and Videos | Apps | Instagram Accounts

Organizations Focused on the Mental Health of Young People of Color
Lee Thompson Young Foundation: an advocacy organization focused on holistic health treatments for mental illness and mental health literacy. The organization has a youth mental health first aid program dedicated to adolescent mental health and substance use.
National Black Child Development Institute: a national organization dedicated to the well-being of Black children that works with leaders and policymakers on issues such as education, health and health care accessibility.
Life is Precious: a suicide prevention program for Latinx girls that provides academic support, art therapies, and mental health and wellness activities.
Aakoma Project: a nonprofit that advances the mental health needs of adolescents of color and their families, raising awareness about mental health stigmas, and facilitating conversations about mental illness.
Asian Mental Health Collective: an organization helping to normalize and make mental health care more accessible for the Asian community, where a lot of mental health struggles are often invalidated or unaddressed.
Concerned Black Men of America: an organization connecting children of color to mental health resources and role models. The organization has parent-focused programs on career development and adult literacy.
Loveland Foundation: an organization focused on the mental health and well-being of Black women and girls. It provides collaborative opportunities and initiatives for healing and empowerment, such as therapy funds, fellowships and listening tours.
Black Girls Smile: an organization focused on the mental wellness of Black females that encourages positive mental health education. It offers mental health awareness workshops for different age groups and promotes accessibility to therapists of color for Black women and girls.
The Boris Lawrence Henson Foundation: a nonprofit founded by Taraji P. Henson that advances the mental health needs of Black communities. The organization offers scholarships to Black students seeking careers in the mental health field, delivers mental health services and programs to students in urban schools, and spreads awareness about mental health wellness.
Circles of Care: a SAMHSA (Substance Abuse and Mental Health Services Administration) three-year grant program geared toward American Indian and Alaska Native communities. It helps children with severe emotional disturbances and their families obtain funding for tribal communities to improve youth mental health and provide a community-based support system.
Center for Native American Youth at the Aspen Institute: a national organization that advocates for and promotes the mental well-being of Native American youth through community-driven solutions with an emphasis on preventing youth suicide. The organization specializes in youth engagement and leadership development, resource exchanges, and policy advocacy.
Reclaim: an organization dedicated to making mental health support and care more accessible and culturally competent for queer and trans youth ages 12-16.

Therapy Directories for People of Color
Black Mental Health Alliance: a community organization dedicated to developing culturally relevant education services that support the mental health of Black communities.
Latinx Therapy: an online directory of therapists for Latinx people.
Therapy for Black Girls: a directory of therapists for Black girls, which includes a podcast and blog posts by Joy Harden Bradford to make mental health topics more approachable and accessible.
Inclusive Therapists: a therapist directory with a focus on inclusiveness.
National Queer and Trans Therapists of Color Network: a healing justice organization that makes mental health resources more accessible to queer people of color.
Therapy for Latinx: a therapist directory of Latinx therapists that allows users to search for specializations.
Latinx Therapy: a national directory of Latinx therapists that also includes access to cultural workshops, courses and wellness resources.
We R Native: a collection of mental health resources for Native American youth about issues such as depression, stress and mood improvement.
Black Virtual Therapist Directory: an online directory for virtual Black therapists, doulas, yoga teachers, and mediators committed to emotional healing for Black communities.
Open Path Psychotherapy Collective: an affordable therapist directory that takes into account financial need.
Melanin and Mental Health: a therapist directory for Black communities that includes podcasts about what it's like to go to therapy.
Ayana Therapy: online mental health therapy for marginalized and intersectional communities that matches users with a licensed professional to chat with.
South Asian Therapist Network: the largest global directory of South Asian therapists that's culturally sensitive and culturally competent.

Mental Health Hotlines and Support Groups for Young People of Color
DeQH: a hotline for Desi LGBTQ for South Asians. Call 908-367-3374.
The Steve Fund: crisis support for young people of color. Text STEVE to 741741 to access a culturally trained crisis text line counselor.
Asian LifeNet: a 24-hour hotline available in Cantonese, Mandarin, Japanese, Korean & Fujianese. Call 877-990-8585.
Young People of Color @ 7cups: an online support community for young people of color. It includes daily check-ins, celebrations, icebreakers and Q&As.
Ok2Talk: a moderated online community platform by the National Alliance on Mental Illness for teens to anonymously express their experiences of mental illness, recovery, or struggle. Posters can share stories, poems, quotes, lyrics and messages of support and hope.
WhatWorks4U: a mental health network for young people and parents of young people exchanging ideas on what works for treatment and care for their mental health issues.
Teen Tribe: a social support group for teens who are dealing with mental health struggles and/or difficult family dynamics.
LiveWell Teens:  free weekly mental wellness, depression, and anxiety peer support groups led by experts and educators to help teens ages 14-18 manage stress.
The Boys Town ​National Hotline: a 24/7 year-round hotline accredited by the American Association of Suicidology. It is for at-risk youth to reach out and discuss issues they are experiencing such as anger, depression and bullying. Call 800-448-3000.

Digital Resources to Support the Mental Health of Young People of Color
Ourselves Black: a site with podcasts, an online magazine, and a blog that share stories related to mental health rooted in communities of color.
Grit X: a platform for young adults and adolescents to reflect on their well-being that includes self-guided questions about mental health through journaling and art.
MannMukti: a storytelling platform dedicated to reducing stigma related to mental health in the South Asian community.
The Clay Center for Young Healthy Minds: an educational resource at the Massachusetts General Hospital that supports the mental health of children and adolescents. It features easy-to-understand blogs, podcasts, and videos.
Rest for Resistance: a mental health healing space for queer people of color that includes stories and poems of survival, resistance, and struggles in mental health.
What To Do When Your (South Asian) Parents Don't Understand Your Mental Health: a first-person account of what it's like to have depression as a South Asian person where the culture is not always understanding about mental health.
African Americans With Anxiety: How to Overcome Unique Obstacles: an article about how Black people can talk to a doctor about mental health and mental illness.
How Adults Can Support the Mental Health of Black Children: a psychologist explains how adults can support the mental health of Black children in the context of racial stress and trauma.
How I'm Normalizing Mental Health For My Black Children: a first-person account of a parent of Black children who seeks to create a cultural norm where seeking mental health help is destigmatized.
What Their Writing Told Me: The Taboo Of Mental Illness In The Hispanic Community: a blog post featuring Latinx children writing about hardships that offers insight into how mental illness is regarded in the Hispanic community.
MyleMarks Free Mental Health Worksheets: a series of worksheets (downloadable in PDF form) for kids and teens to explore their feelings on mental health issues. Setting boundaries, establishing goals and needs, and creating coping mechanisms are some examples.
18 Self-Esteem Worksheets and Activities for Teens and Adults: worksheets on self-confidence, affirmations, and gratitude for young people to help them reflect on their emotions and build their mental health wellness.

Short Films and Videos About Mental Health and Resilience Among Young People of Color
Easy Anxiety : a short film about a Black girl's personal journey in mental health, anxiety, and self-love.
The Kids Are Not Alright: The Mental Health Crisis Affecting Latina Teens: a documentary from Vice exploring how Latinx adolescent girls have disproportionately high rates of mental health struggles and suicide attempts.
We All Have Mental Health: an animation video for young people (ages 11-14) discussing mental health struggles and care.
Why Mindfulness Is a Superpower: An Animation: an animation video about mindfulness and well-being for young people.
You Are Not Alone: PBS videos on youth mental health, exploring depression, anxiety and stress for kids and teens.
Teen Affirmations For Living Your Best Life and Feeling Great: a five-minute video produced by SuccessfulBlackParenting.com aimed at uplifting Black adolescents through affirmations and advice.
Break the Stigma: an animated video for young people by the Children's Hospital Colorado about why it's important to fight the stigma of mental illness.
More than a Moment – A Conversation with BIPOC Student Mental Health Leaders: an hour-long videoconference by Active Minds featuring BIPOC (Black, Indigenous and People of Color) teens and young adults who aim to raise awareness of mental health issues in their communities.

Apps for Supporting the Mental Health of Young People
The Safe Place: a minority mental health app raising awareness on mental health in the Black community. Featuring inspirational quotes and statistics, it can also be a learning tool for mental health professionals working with people of color.
Liberate: a meditation app for communities of color that includes guided meditations and talks designed for the BIPOC experience.
Dreamy Kid: a kids' mental health and wellness app that features everyday meditations, affirmations, issue-based meditation (such as confidence-building, eating healthy, ADHD, or anger management, etc), and bedtime stories.
SuperBetter: an emotional wellness game for children and teens to build resilience, motivation and positivity in the face of adversity.
Headspace Meditation for Kids: meditation with customized sessions by age groups for calmness, focus, kindness and sleep.
Calm Counter:an app that helps kids calm down from emotions, especially those with autism. It is a visual and audio tool telling stories about anger and how to calm down. It opens up to an "I need a break" screen when tapped.
Stop, Breathe & Think Kids:  meditation app for kids focused on sleep, calmness, breathing exercises and conflict resolution.
Emotionary: an interactive dictionary app guiding children through their emotions to find the right one for what they are feeling.
MindShift: an app to help children and teens manage anxiety and think more effectively.
Happify: an app with games to help young people overcome negative thoughts.
UNITY Wellness Warrior: a culturally competent, interactive wellness app for Native American people to track their mental well-being and live healthier lives.

Instagram Accounts About Mental Health
Instagram is a great social tool for young people, where they can follow accounts of mental health educators, therapists of color, and other content creators. Many of these accounts post bite-sized, colorfully designed and digestible posts about supporting mental health or quotes about holistic healing, setting boundaries, and affirmations. Focuses range from racial trauma to body positivity. They are aimed at a variety of age groups, but primarily young people.
Mental Health Educators and Therapists
Community Organizations
Mental Health Content Creators, Writers, and Illustrators
Information on OnlineCounselingPrograms.com is not intended to be a substitute for professional medical advice. Always consult your physician or other qualified professionals with any questions you may have regarding mental health issues.
Do you have a passion for helping young people navigate challenges related to mental health? Learn more about how to become a mental health counselor.