What Not To Say to Your Therapist

Therapy is a unique personal journey that may feel tricky to navigate at times especially if you are new to it. While difficult topics or conversations may arise in therapy, being open-minded, authentic and completely transparent can help to maximize the benefits that come with this form of mental health treatment. To be able to do that, it's important to ask yourself why you are considering therapy and why now. You'll also want to map out your end goals, including the lessons you're hoping to learn.
"…we are trained to help you uncover your internal expert and ask the right questions to help you discover the solutions that are going to work best for you."
"I think a big challenge is that a lot of times people come into therapy thinking it's about advice," said Jennie Marie Battistin, a licensed marriage family therapist. "But we are trained to help you uncover your internal expert and ask the right questions to help you discover the solutions that are going to work best for you."
The American Psychological Association (APA) describes therapists and clients as "equal partners in the therapy process." According to experts in the field, patient feedback can help strengthen the relationship between the two parties. So, how do you open up to your therapist in that regard? Let's explore some tips in the next section.
How To Talk to a Therapist: What To Avoid
Do not apologize for talking too much
Therapy is your time and your space to be unapologetically honest with your emotions—the best way you know how.
"You can use profanity or cry if you want. It doesn't always have to be in a controlled manner," said Leigh McInnis, a licensed professional counselor and executive director for Newport Academy in Virginia.
However, it's normal to sometimes feel self-conscious about the fact that you are talking about yourself and how you feel for an extended period of time. For most therapists, there's no such thing as talking too much in a session as long as you're pausing to do the reflective work.
"A lot of times a client will come in and they're unloading like a hive of bees, and it's because they are avoiding what they really need to get to," Battistin said.
Your therapist is there to help you make that conversation a productive one. If you ever feel like you're talking too much, consider slowing down and pausing for a moment to consider what you have just shared with your therapist. It's important to take time to reflect on the factors that brought you to the session in the first place. In doing so, you help your therapist understand what they can do to support and empower you to implement necessary changes in your life.
It's also helpful to share your communication preferences with your therapist—and don't apologize for that either. "Being communicative is the only way for us as therapists to really get to know our clients. Let me know if you'd prefer for me to listen quietly and create a safe space, or if it's more helpful for me to ask questions and provide feedback and examples," McInnis said.
Do not apologize for emotional responses
Therapy can be an emotionally taxing experience as it often requires you to explore and express your emotions in a deep, intimate, honest and reflective manner. It's common to have emotional responses to certain topics that may come up during your session with your therapist. This is your opportunity to learn how to actively engage and confront challenging conversations about emotions. Cultivating this habit in therapy can help you learn how to better express your feelings to other people in your everyday life.
"We're often taught to not be too vulnerable with our emotions," Battistin said. "But therapy is a safe container to explore how to handle and tolerate more difficult emotions rather than bottling them up and suppressing them, which can cause dysfunction in our lives."
As a client, let your emotions flow organically even if you feel you're bubbling over. Understand that a therapist is trained to help intervene, helping you answer questions on how to handle your emotions. When you let your emotions out, you're better able to harness the tools and resources you learn in therapy to help give you insight into the struggles you are facing as well as some of the patterns of dysfunction you've had in your life.
That doesn't always come easily.
"It's equally important to acknowledge that therapy is really hard work and change is hard work for everyone," McInnis explained.
Do not speak poorly of yourself
Emotional expression and vulnerability in everyday life doesn't come easily for everyone. In therapy, you may get critical of yourself. It's normal to feel you have somehow "dropped the ball" or did not meet your own (or others') standards.
Battistin explains this phenomenon. She calls it the "Oreo sandwich method," which means that, as a client, you may be feeling a certain difficult emotion, but you're also feeling uncomfortable with the level of emotion being expressed or the amount of crying you may be doing during a session.
The result: You end up speaking poorly of yourself, downplaying your emotions or feeling a lack of self-confidence.
Instead of making statements like, "I'm not good at…" or "I'm a failure," it's important to try to express these feelings to your therapist in a constructive manner and be gracious to yourself. And if you are seeking reassurance from your therapist, let them know that. They can equip you with skills to learn how to cope with negative self-talk when you're feeling really emotional.
Avoid stating that therapy "doesn't work for me"
When things get difficult in therapy, you might start to feel therapy "doesn't work for you." However, this doesn't always mean you should quit or give up on it.
Battistin explains that you should aim to have at least three visits with a therapist before you decide to stop therapy or change therapists. This gives your therapist the chance to have enough time to better understand who you are and how you look at the world so they can connect with you in a way that's meaningful and helpful in the therapeutic process. If you've been with your therapist for at least three visits and you still feel that they are having difficulty understanding your needs, try to have a conversation with your therapist since they would most likely be willing to change their modalities. Maybe you would prefer a directive approach or a skills-based approach. When you let the therapist know, they will most likely readjust and not feel offended.
"I actually really love when my clients tell me things like, 'Hey, I feel like you really misunderstood me last week.' We aren't mind readers and we have no magic wands, so we really do need and invite that feedback," Battistin explained.
However, if you do not feel like your conversations with your therapist are helping you, then it may be useful to discuss changing therapists. Battistin said that, in that case, you should feel free to express to your therapist what you need and are looking for so they can refer you to a colleague who may be better suited for you.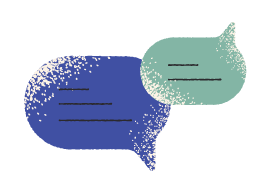 How To Talk to a Therapist
There are a number of factors to keep in mind when navigating how to talk to a therapist. McInnis recommends that clients ensure they're not filtering their thoughts, feelings and goals. Brutal honesty about your experiences is healthy and is something that therapists look for in clients.
"I want clients to be willing to be vulnerable and emotionally focused, instead of rehashing and venting, which is something you might be doing with a friend. But a therapy session is different because it allows you to look closely at how you were impacted and verbalize your motivations and desired outcomes," McInnis said.
Oftentimes, if you do not feel understood in therapy, you might be putting up a defensive wall. Instead of saying, "you don't understand me," consider saying, "you don't understand my experience," Battistin said.
Feel free to verbalize if you feel backed into a corner by a question or if you hear a statement that makes you want to shut down and leave the session. For Battistin, such feedback is particularly helpful as it allows her to understand clients a bit more and how they are interpreting the questions—and that way, a session can be used to explore the history or feelings that trigger a client when asked certain questions.
If you are struggling with any of the above tips, understand that you can communicate this to your therapist and receive advice on how to move forward.
Looking Ahead
Therapy is truly a process, not an overnight resolution. It's designed to give you an opportunity to work through whatever it is that brings you into therapy. So, hold onto that thought going into it. If you are emotionally open and authentic with your therapist, you may be able to achieve the goals you set for yourself at the beginning.
"Therapy is a space for you to learn how to be comfortable with another human being," McInnis said. "You're there to make connections, challenge yourself and, in turn, continue to grow and build resilience in relationships through that connection."
If you are considering a career in therapy, consider exploring our therapist career page.
Last updated May 27 2022.